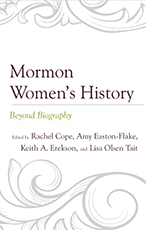 Nearly two years after a Church History Symposium devoted to the subject of Mormon women's history, selected papers from the event are now available in a new volume published by Fairleigh Dickinson University Press.
The volume includes chapters by Keith A. Erekson, Jenny Hale Pulsipher, Andrea Radke-Moss, Amy Harris, Amy Easton-Flake, Heather Belnap Jensen, Josh E. Propert, Julie K. Allen, Benjamin E. Park, and R. Marie Griffith. It was was edited by Rachel Cope, Amy Easton Flake, Keith A. Erekson, and Lisa Olsen Tait.
The book is available from Amazon and Barnes & Noble.
Visit the book's page on my website to learn more, download a chapter, or purchase copy.